Foundation for a Smoke-Free World's Activity in Bangladesh
Foundation for a Smoke-Free World (FSFW), a tobacco industry front group, has recently ramped up its activity in Bangladesh, attempting to influence and reshape the tobacco control measures and narratives in a way that does not hurt tobacco companies.
What is FSFW?
Foundation for a Smoke-Free World (FSFW) defines itself as "an independent, nonprofit organization committed to reducing deaths and diseases caused by smoking"[1]. Global tobacco industry watchdog Expose Tobacco has identified FSFW as a tobacco industry front group.[2]  FSFW was launched in 2017 in a tobacco industry-sponsored event. According to the 2019 tax returns filed by FSFW, the organizations is solely funded by Philip Morris International (PMI). PMI has agreed to contribute US$80 million a year for the next 12 years starting from 2018.
In a report titled 'Addiction at Any Cost: Philip Morris International Uncovered" prepared by the Stop Project, it was said that,
"[FSFW] is a tobacco industry front group operating as a public relations arm for PMI and is an integral part of the company's corporate affairs strategy. Like PMI, the Foundation for a Smoke-Free World has promoted tobacco harm reduction strategies of unproven effectiveness and opposed evidence-based tobacco control interventions."
World Health Organization (WHO) has released a statement in 2017, raising a number of grave conflict of interest involving FSFW's vision and its sponsor:
"If PMI were truly committed to a smoke-free world, the company would support these policies. Instead, PMI opposes them. PMI engages in large scale lobbying and prolonged and expensive litigation against evidence-based tobacco control policies such as those found in the WHO FCTC and WHO's MPOWER tobacco control…"
The release also said,
"WHO will not partner with the Foundation. Governments should not partner with the Foundation and the public health community should follow this lead."[3]
FSFW in Bangladesh
The first known FSFW activity in Bangladesh involved BRAC Research & Evaluation Division (BRAC RED). On August 26 2018, an email invitation for a seminar titled "Double Burden of Disease supporting populations at Risk" was sent to a number of public health experts, academics and BRAC officials. Dr. Ehsan Latif, the then Director Programs- Health and Smoking Control (the current Vice President, Grant Management and Development, as of 2020), FSFW was the main speaker of the event. According to knowledgeable quarters, the seminar, scheduled on August 28, 2018 did not materialize.
A Bangladeshi national was awarded the Tobacco Harm Reduction Scholarship, funded by FSFW.[4] The recipient of the scholarship was a Ph.D. candidate in the Department of Economics, Lingnan University, Hong Kong. A project report was also produced, titled 'Farmers' Response to Opportunities Provided by Tobacco Processing Companies in Tobacco Cultivation in Bangladesh' is prepared for Knowledge Action Change (KAC) under agreement with KAC for the Tobacco Harm Reduction (THR) scholarship program 2018.[5]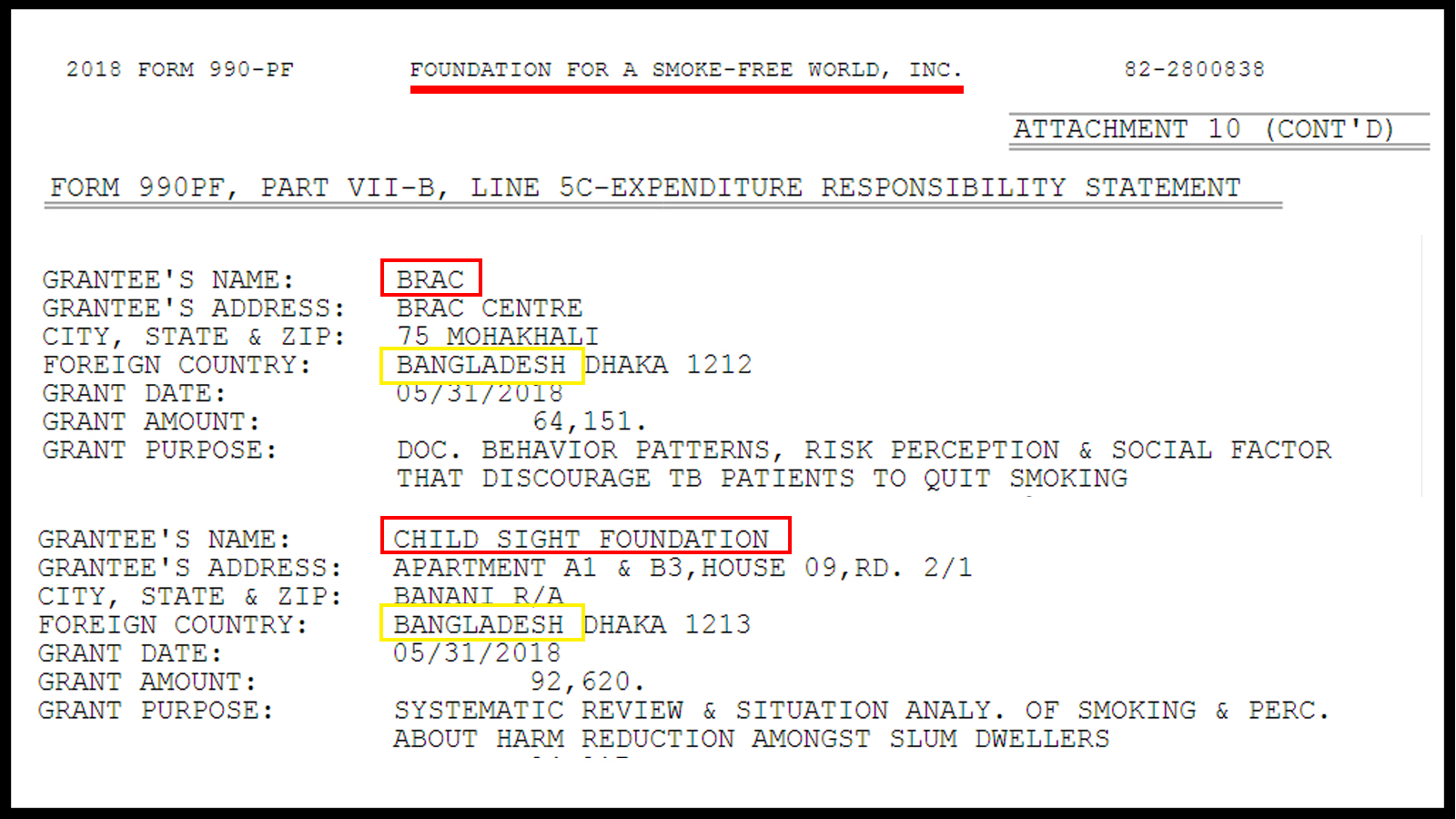 In June 2019, two organizations namely BRAC and Child Sight Foundation (CFS) received grants worth USD 64,151 and USD 92,620 respectively from FSFW. As per the grants agreement, BRAC was to document behavior patterns, risk perception & social factor that discourage TB patterns to quit smoking. The CFS was to conduct systematic review & situation analysis of smoking & perception about harm reduction amongst slum dwellers.
Following this event, the anti-tobacco organization PROGGA sent an alert to its stakeholders and other relevant organizations, that said:
It is alarming that two Bangladeshi non-government organizations, including the world's largest NGO BRAC has received tobacco industry grants in the name of tobacco control. The government should impose ban on PMI funded Foundation for a Smoke-Free World activities as our prime minister is committed to making the country tobacco-free by 2040. 
Anti-Tobacco Media Alliance (ATMA) and other public health activists also voiced their protest. According to a UNB news article, "Anti-tobacco activists have already played an exemplary role in pointing out the sinister activities of FSFW in Bangladesh."[6] As a successful outcome of such moves, BRAC returned the FSFW fund a month later,  in July 2019 as the controversy surrounding FSFW came to the fore. It should be noted that BRAC was also a recipient of a grant from Bloomberg Philanthropies at that time. Bloomberg Philanthropies is one of the many international high profile funders that rejected FSFW from the beginning.[7]
BRAC' decision to reject FSFW fund was greatly welcomed by the country's anti-tobacco activists. In an interview to Dhaka Tribune, Progga's Coordinator, Hasan Shahriar commented:
"The moral stand taken by BRAC in this regard will go a long way in building a tobacco-free country as propounded by the government of Bangladesh, taking apart from being a partner of tobacco industries and de-normalizing them." [8]
In May 2020, the Bangladesh Office of Telenor Health ASA accepted 74,400 US Dollars as grants from FSFW. The grantee list of FSFW also includes Telenor Health ASA as a recipient. A digital healthcare provider, Telenor Health ASA is owned by Telenor, a Norway-based business group that is also the main shareholder (55.80 percent) of Bangladesh's largest mobile phone company, Grameenphone. Telenor Health and Grameenphone jointly run a digital healthcare service named Tonic.
Criticism
FSFW activities in Bangladesh repeatedly attracted widespread criticism from public health activists. Anti-tobacco organizations have sent letters to National Tobacco Control Cell (NTCC) of Health Services Division, Ministry of Health and Family Welfare (MoHFW), urging NTCC to issue necessary directives to government and non-government organizations not to take any grant or fund or not to get involved with FSFW in any way.