Prerona Foundation
Prerona Foundation is a BATB-run organization that claims to be a "development partner of Bangladesh that drives initiatives…aligned with the country's agenda of achieving the SDGs." The organization emerged in the forefront of BATB's CSR activities in 2020 amid the Covid-19 pandemic. As of December 2020, "Prerona Foundation Team" as well as its Governing Body is composed of top-echelon BATB officials.
Prerona Foundation and BATB
Prerona Foundation is operated under direct control of BATB leadership.
The Foundation's official website and other documents do not acknowledge its direct affiliation with BATB. However, in an interview published in the Prothom Alo, a daily newspaper, on 28 December 2020, the Managing Director of BATB, Shehzad Munim mentioned for the first time that Prerona Foundation is indeed created by BATB to run the company's CSR activities. Asked about the company's future plan with regard to its CSR activities, Mr. Munim replied, 'To expand the area of our activities, we have already established a foundation called Prerona. Through Prerona Foundation, we will work for SDGs implementation by empowering the physically-challenged individuals and the women and also by increasing skills of the manpower of Bangladesh."[1]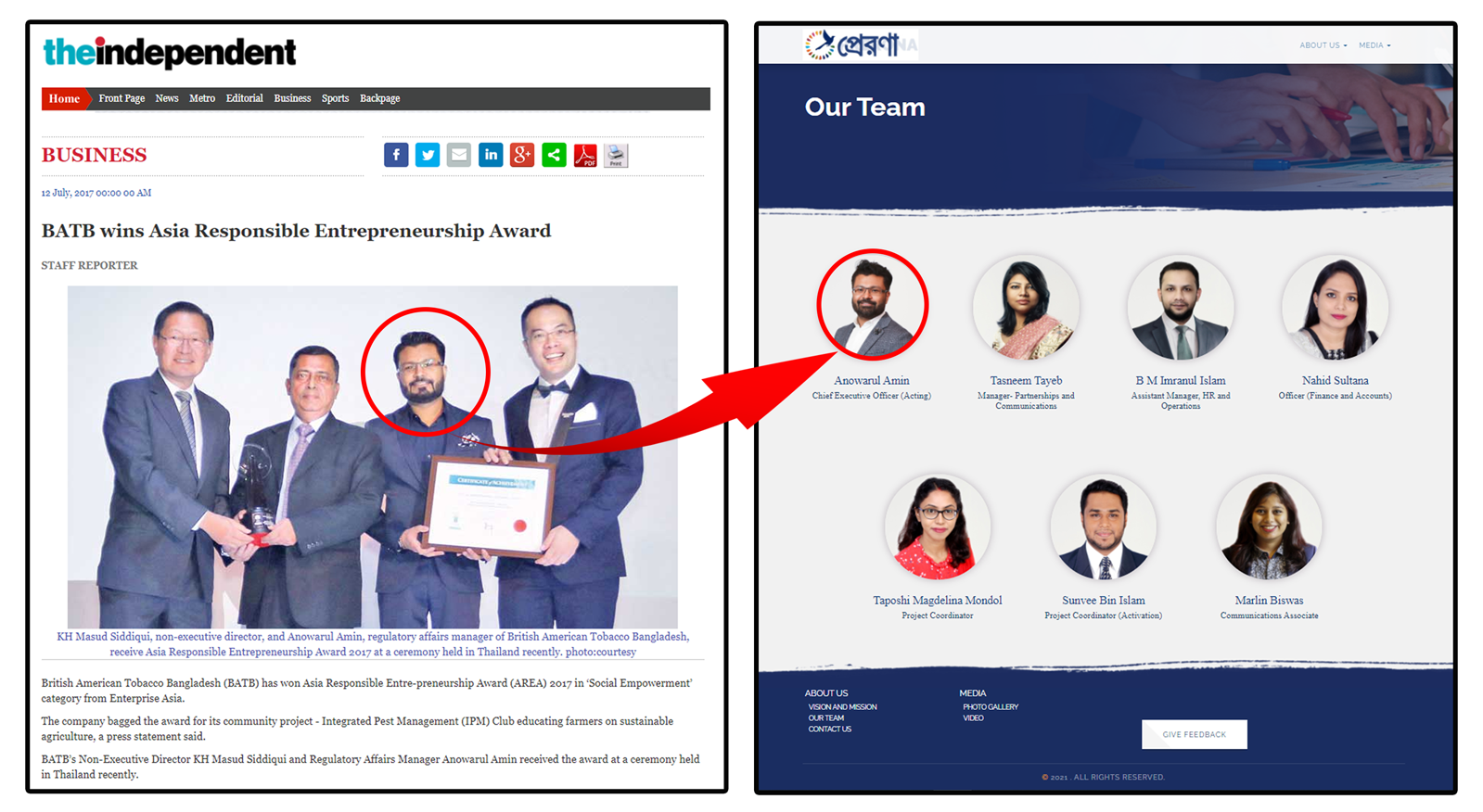 As of December 2020, Prerona Foundation website displays Mr. Anowarul Amin as the Chief Executive Officer (Acting) of the Foundation. In the 2017 Annual Report of BATB[2], Mr. Amin was mentioned as the Regulatory Affairs Manager of British American Tobacco Bangladesh.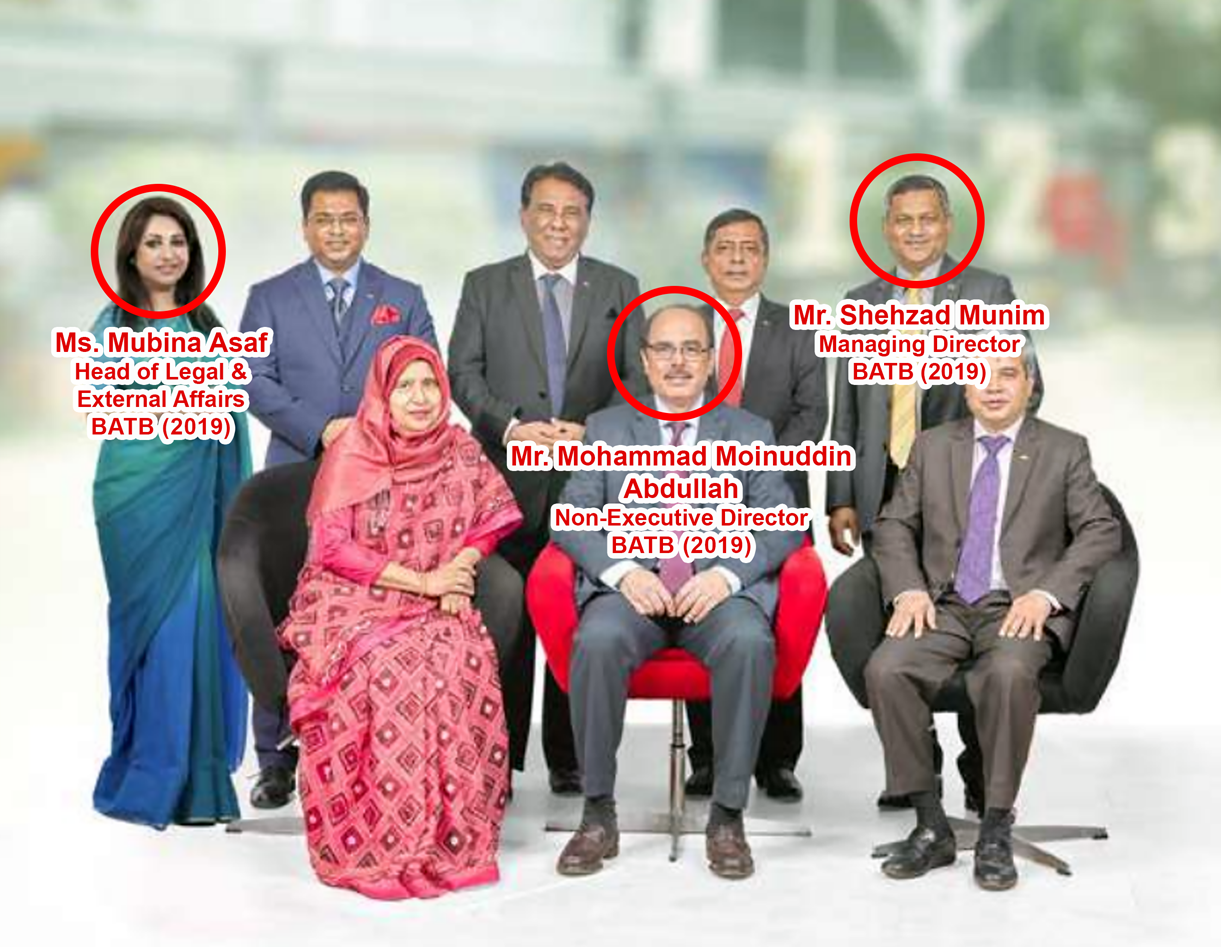 CSR Committee of BATB. Screenshot taken from 2019 BATB Annual Report, Page 84. Red-circle around some of the Prerona Foundation Governing Body members and people involved with its activities.
Although CRAFT found no mention of the Foundation's Governing Body in its official website, newspapers and Prerona Foundation's official Facebook page mentioned top BATB officials as members of its Governing Body. As gathered from different public domain sources, the governing board members of Prerona Foundation are the top executives of BAT Bangladesh including at least its Managing Director Mr. Shehzad Munim[3], Head-Legal & External Affairs Ms. Mubina Asaf[4], Head of External Affairs Mr. Sheikh Shabab Ahmed[5] and Regulatory Affairs Manager Mr. Anowarul Amin[6].
Activities
On 01 September 2020, Prerona Foundation and PFDA-Vocational Training Center signed an MoU to provide online training on mask-making to physically-challenged individuals under a project titled Amra  Shikhi,  Amra  Pari.[7]
Prerona Foundation also manufactures Shudhdho Hand Rub and claims that through the production of the hand rub, the organization is "directly creating income opportunity for individuals with physical impairments". In a post shared by the Facebook page of British American Tobacco Global Careers, Shudhdho is actually produced in the manufacturing facilities owned by BATB.[8]  
According to the website of Prerona Foundation, it runs a Skill Development Center in Dhaka "to offer advanced skills development training to individuals who go abroad as migrant workers."
Activities during Covid-19 Pandemic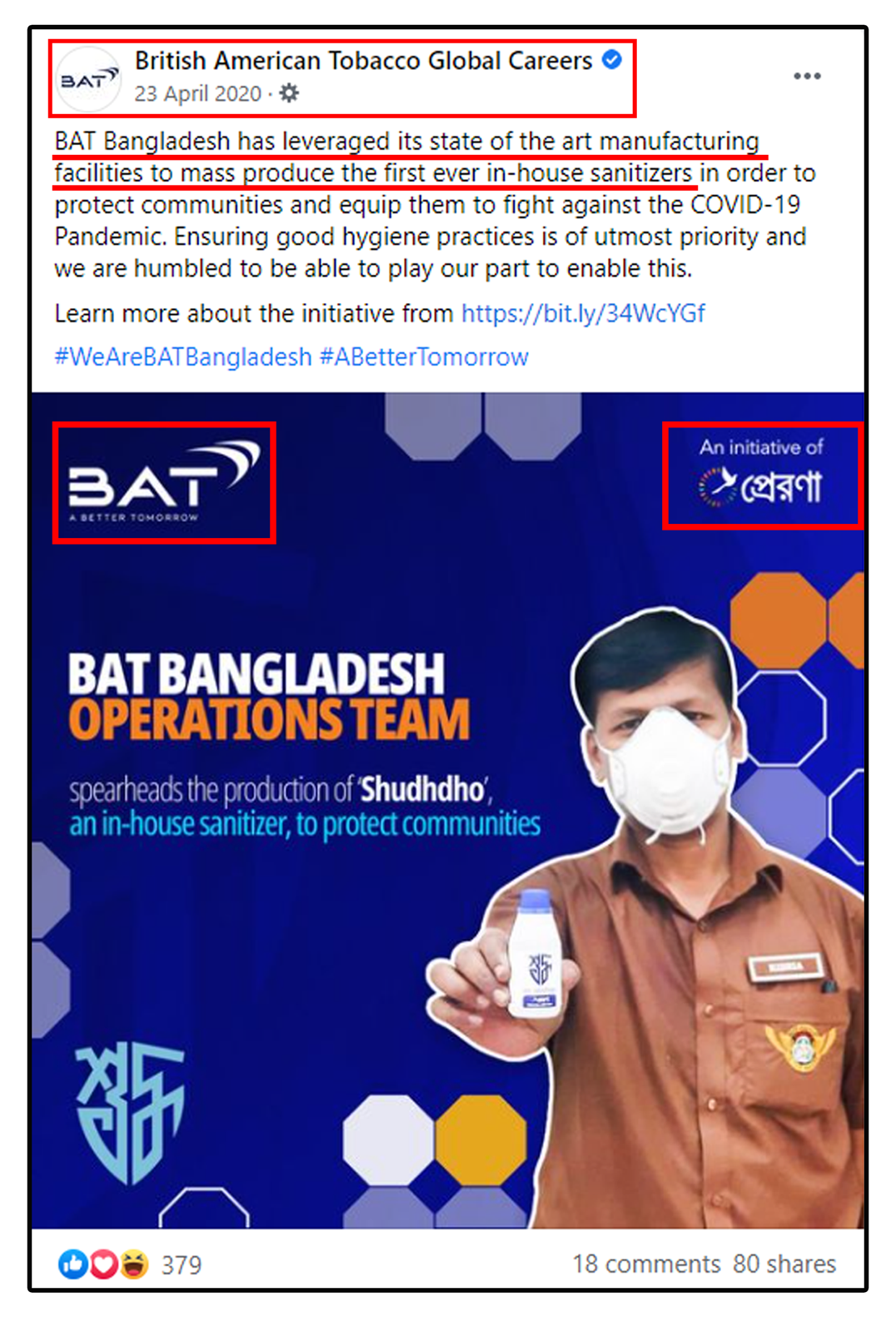 Prerona Foundation worked a major tool for BATB to exploit the pandemic to the fullest.[9] BATB has been using the seemingly benevolent and philanthropic nature Prerona Foundation to get closer to policymakers, administration, law enforcement agencies, media personnel and other influential individuals and organizations. According to a report published in The Business Standard on 01 September 2020, "the Prerona Foundation is working hand-in-hand with various  government,  non-government, and privately-owned organizations."
Through Prerona Foundation, from 1 April to 31 May 2020, BATB was able to introduce and distribute more than 100,000 units of its hand sanitizer brand Shudhdho among influential govt. agencies.[10] As a pretext of handing over hand sanitizer bottles, top-echelon BATB officials met influential figures such as the Mayor of Dhaka North City Corporation (DNCC)[11], Inspector General of Police (IGP)[12], Director General of Bangladesh Border Guard (BGB)[13], Director General of Rapid Action Battalion (RAB)[14] and Director, Military Operation, Bangladesh Army[15]. Prerona Foundation also supplied Shudhdho to Bidyanando Foundation, an influential organization in Bangladesh[16].
Prerona Foundation and SDGs
The official website of Prerona Foundation claims that "Prerona is a development partner of Bangladesh that drives initiatives supported by relevant experts aligned with the country's agenda of achieving the SDGs."
However, in reality, tobacco production and use frustrate most of the sustainable development goals.[17] A WHO estimate informs that 5% of the total income of a tobacco-user family is spent for tobacco consumption and 10 percent of its monthly expense goes to the treatment of tobacco related diseases. This is how tobacco use makes the poor even poorer and hinders achieving SDG-1: No Poverty. Moreover, the expansion of tobacco cultivation throughout the country is gradually putting the achievement of food security and sustainable agriculture (SDG-2) in jeopardy. Quality education (Goal 4) and Gender Equality (Goal 5) are the preconditions of sustainable development. But women and children constitute the majority of the workforce in bidi and smokeless tobacco factories. These children are deprived of basic education and the women workers are deprived of minimum livable wages and subject to inhumane work environment. Besides, women get exposed to passive smoking at home, public transportation and workplaces. In Bangladesh, about 30 percent of the total deforestation occurs for curing tobacco leaves which is increasing the climate change risks (SDG-13).
So, if the overall estimation of the damages caused by tobacco production, marketing and consumption suggests that tobacco industry, in reality, is hindering the efforts we put to reach each and one of the sustainable development goals. Prerona Foundation and BATB's apparent interest is fulfilling the SDGs amounts to nothing. The sole purpose of such initiatives of tobacco companies is to create a false image of partnership with the govt. and other policymaking institutions of the country. This false image and relevant involvement consequently facilitates tobacco companies' infiltration into high level of both the govt. and the administration.
Most importantly, the SDGs are being implemented under the auspices of the United Nations Development Programme (UNDP), which has a clear policy of non-collaboration with the tobacco industry.[18]