Tobacco Industry Interference during COVID-19 pandemic
Tobacco industry interference has reached a new peak in Bangladesh during the Covid-19 pandemic. Tobacco companies, particularly, the multinational entity, British American Tobacco Bangladesh (BATB) and Japan Tobacco International (JTI) , have interfered directly to secure favors from authorities, donated protective equipment to promote brand images, and forged liaisons with influential government bodies in the process.
Covid-19 and Tobacco Industry Interference: Global Scenario
According to the World Health Organization, tobacco products can facilitate the spread of Covid-19 infections. Smokers are also more likely to face serious illness once infected by Covid-19 compared to non-smokers.
WHO newsroom, in a Questions and Answers article[1], wrote:
"Tobacco smokers (cigarettes, waterpipes, bidis, cigars, heated tobacco products) may be more vulnerable to contracting COVID-19, as the act of smoking involves contact of fingers (and possibly contaminated cigarettes) with the lips, which increases the possibility of transmission of viruses from hand to mouth."
Even users of smokeless tobacco are also more vulnerable to covid-19 infections:
"Using smokeless tobacco often involves some hand to mouth contact.  Another risk associated with using smokeless tobacco products, like chewing tobacco, is that the virus can be spread when the user spits out the excess saliva produced during the chewing process."
Due to heart diseases and lung disorders, users of e-cigarettes and other emerging tobacco products (ETPs) are also more likely to get severely ill by Covid-19 infections.
"…existing evidence indicates that electronic nicotine delivery systems (ENDS) and electronic non-nicotine delivery systems (ENNDS), more commonly referred to as e-cigarettes, are harmful and increase the risk of heart disease and lung disorders.  Given that the COVID-19 virus affects the respiratory tract, the hand-to-mouth action of e-cigarette use may increase the risk of infection."
In Episode 52[2] of WHO Science in Science in 5, epidemiologist Dr. Heba Gouda said,
"…smokers are up to 50% more likely to suffer worse from COVID-19 disease. That means that smokers are more likely to have worse symptoms, more likely to be hospitalized, more likely to be admitted into intensive care units and require help with breathing and/or ventilation. Ultimately, smokers are more likely to die from COVID-19 disease than someone who has never smoked."
While the adverse impacts of tobacco in exacerbating Covid-19 situation prompted public health organizations and activists for stringent tobacco control policies, tobacco companies have "used the pandemic to engage with relief efforts, form relationships with government figures, and attempt to influence policy."  A report published in The Lancet[3] provides a glimpse of tobacco industry's multi-faceted interference during the pandemic:
"…at least ten countries designated tobacco products as essential goods during the pandemic. Guatemala, Tanzania, and Zambia delayed introducing or implementing tobacco control legislation. Argentina and the Dominican Republic reduced tobacco taxes…The most eye-catching opportunities involved corporate social responsibility. Tobacco companies made donations of supplies, such as hand sanitizer, personal protective equipment, and testing kits to countries worldwide."
The Global Tobacco Industry Interference 2021[4] says,
"The [tobacco industry] exploited the COVID-19 pandemic with a multipronged tactic to entice, persuade and coerce governments towards weaker public health policies. Many governments, made vulnerable by the pandemic, freely accepted and endorsed charity from the TI, when such donations often come with strings attached, and compromised on policies. Instead of removing benefits to the industry, many governments made decisions that benefited the industry, particularly in lowering or not imposing taxes and delaying legislation or its implementation."
Bangladesh Scenario
Bangladesh saw an upward trend in terms of tobacco industry interference as its score rose to 72 (from 68 in 2020) in the 2021 Bangladesh Tobacco Industry Interference Index[5]. According to the country Index 2021, "tobacco industry's participation or influence in policy developments, a sharp spike in the industry's CSR activities during pandemic, increased collaboration with government agencies, industry-friendly approach of some ministries and government bodies and conflict of interest led to the deterioration."
The Introduction of the 2021 Bangladesh Index says,
"…tobacco industry's incessant interference and aggressive image building activities during COVID-19 have put Bangladesh's commitment [to build a tobacco-free nation] at the risk of frustration…The onset of covid-19 pandemic should have strengthened the cause for a robust and time-fitting tobacco control policy. Unfortunately, the opposite took place as tobacco companies managed to exploit the dire situation to the fullest."
Major incidents of tobacco industry's interference and "charm offensive" campaign during Covid-19 pandemic are given below:
LOBBYING:
Special Permission to Continue Operation amid Shutdown:
Citing the Essential Commodities Act 1956 where cigarettes are listed as essential commodities, BAT Bangladesh and JTI Bangladesh managed to acquire special permissions respectively on 3 April and 5 April from the Ministry of Industries (MoInd) to continue manufacturing, leaf purchase, finished goods supply, and distribution while the country was only one week into the countrywide pandemic shutdown. MoInd also instructed field administration and law enforcement bodies to help these two tobacco companies continue operation.[6]
Following protests from tobacco control groups, on 18 May 2020, the Ministry of Health and Family Welfare (MoHFW) issued a letter[7] to MoInd requesting for withdrawal of such special permission as well as calling for a temporarily ban on tobacco production and sale during COVID-19 outbreak.  Two days later, on 20 May, the MoI turned down the request by MoHFW.  The mounting pressure on MoHFW forced them to withdraw their letter of request itself.
On 13 April 2020, Akij Bidi Industry managed to acquire a special permission from the District Deputy Commissioner's Office of Lalmonirhat to open its fourth factories within the district's jurisdiction.
DONATIONS/PHILANTHROPIES/CSR ACTIVITIES
By British American Tobacco Bangladesh (BATB):
Donated around 280 pieces of Personal Protection Equipment (PPEs) to the Central Medical Stores Depot

to be distributed

in government hospitals, located in the capital, Dhaka and the port city of Chittagong.

Introduced their own brand of hand sanitizer,

'Shudhdho'

and

donated

more than 1,000,00 units of it through their newly founded sister concern,

Prerona Foundation

. Distributions were made to the following:

Donated

masks and sanitizing equipments to Rangpur Metropolitan Police to be distributed among their police staffs.
         
By Japan Tobacco International (JTI) Bangladesh:
'Shudhdho', hand sanitizer brand introduced by BATB

BATB officials handed over hand sanitizer to the Mayor of DNCC

 

BATB officials handed over hand sanitizer to the Director General of RAB

BATB officials handed over hand sanitizer to the Inspector General of Police

 

BATB officials handed over hand sanitizer to the Director of Military Operations

BATB's branded hand sanitizer 'Shudhdho' distributed among police force

 

BATB's Rangpur Regional Leaf Manager handed over masks and sanitizing equipments to Police Commissioner of Rangpur Metropolitan Police
Providing support

to approximately 60,000 people across Bangladesh under a special COVID-19 fund. The fund has been disbursed to provide essential food and hygiene commodities to underprivileged communities as well as protective gears to high-risk frontline workers.

Distributed

8,070 packages containing 10-15 kgs of essential food and hygiene products to high-risk groups in leaf growing regions, areas near the factory and other vulnerable areas in collaboration with Rapid Action Battalion Bangladesh (RAB) and Bangladesh Red Crescent.

Handed

over 200 packages of essential goods to Upazilla Nirbahi Officer (UNO), Lama, Bandarban district.
| | |
| --- | --- |
| JTI Bangladesh officials ready to distribute 8,070 packages of essential goods and hygiene products to high-risk groups in leaf growing regions, areas near the factory | JTI Bangladesh officials handed over 200 packages of relief goods to UNO of Lama |
By Akij Group, parent company of Akij Tobacco:
Provided

medical equipment and financial assistance to Kurmitola General Hospital and 100 isolation beds to

Bangladesh Police Hospital

for doctors,  nurses and patients.

Distributed

masks and bottles of their branded drinking water, Spa, among the police force of Dhaka Range.
| | |
| --- | --- |
| Akij Group Chairman handed over masks and drinking water to the Inspector General of Police for police staffs | Akij Group Chairman handed over medical equipment to the Home Minister for the Police Hospital |
By Abul Khair Group, the parent company of Abul Khair Tobacco:
Started to deliver

free of cost oxygen to the hospitals in Chittagong for COVID-19 treatment. The company procured 300 cylinders with the capacity of 1.4 cubic meters each for this purpose.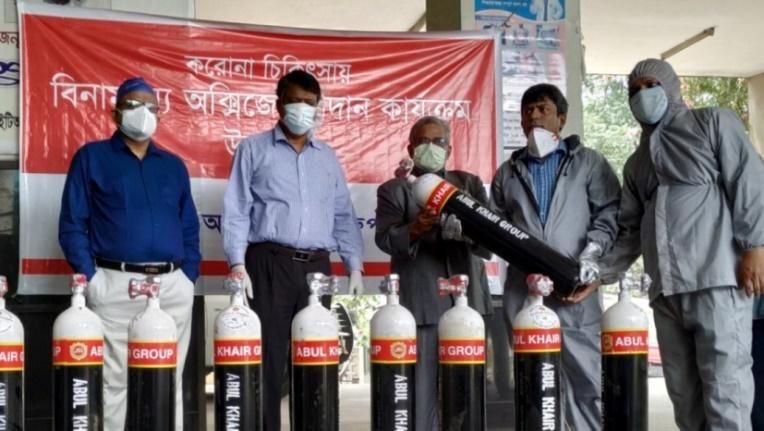 Abul Khair Group Delivering Oxygen for Free to Hospitals
By Other Tobacco Companies:
Vergon Tobacco

distributed

essential commodities (rice, pulses, oil, and salt) among 200 poor families.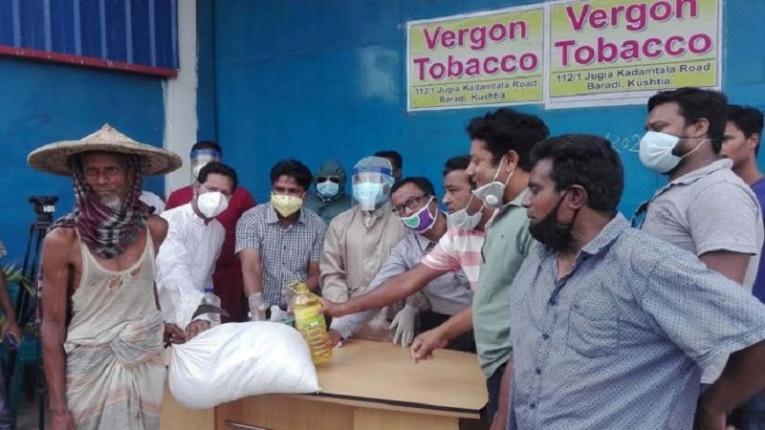 Vergon Tobacco Distributing Essential Items Among Poor
Rangpur Leaf Tobacco handed over 450 pieces testing kits, 2000 pieces masks, 400 pieces spectacles and 200 pieces PPE to Principal Rangpur Medical College and Hospital.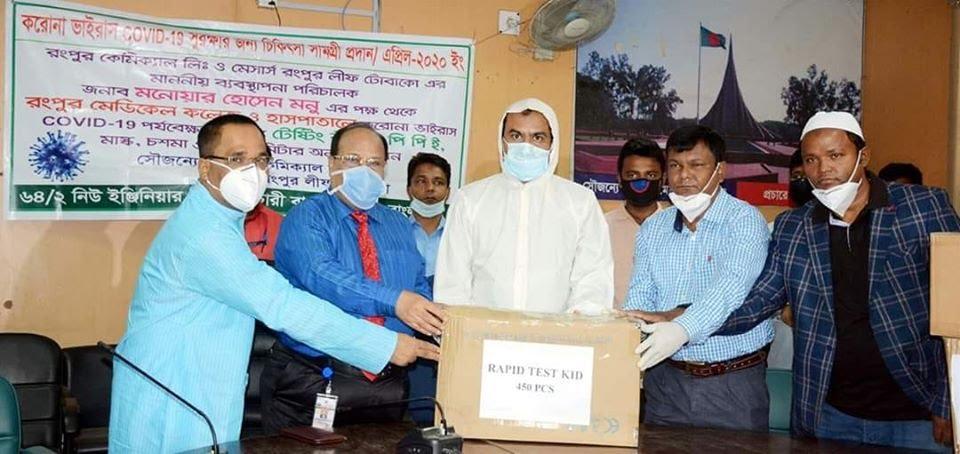 Rangpur Leaf Tobacco handed over protection equipment to Rangpur Medical College and Hospital
By Emerging Tobacco Products (ETP) Traders:
Vape shops offered home deliveries of their products to customers along with card payment option under the pretense of following government policy to encourage people to stay home.
SPREADING MISINFORMATION:
PROMOTING CORPORATE IMAGE:
Bidi industries

claimed

that the multinational tobacco companies (i.e. BATB, JTI) are operating their business well off even during the COVID-19 crisis, because of automated machines for producing cigarettes but the bidi industry, a labor-intensive industry, and its workers are hapless following the closure of bidi factories.
Tobacco companies

continued

to purchase and sell tobacco leaf under the supervision of the Department of Agriculture Marketing (DAM).